Product description
Product reviews
Product Information

Lamp beads: P90
Power: 36W
Lumen: 2000 (Real test data)
Lighting Mode: 6 Modes
Charging interface type: Type-C
Max Lighting distance: about 200 M
Zoom: Only F15-T
Runtime: about 6-7H
Use battery model: 5200mAh 26650 battery
Material: Aluminum alloy
Weight: about 129g (F15), about 154g (F15-T)
Product Size: 124*38*36mm (F15), 139*38*36mm (F15-T)
Charging voltage: 5V/1A  (Note: fast charging chargers are not supported)
Tips For Using
Six modes, press the central switch button to turn on the light source, and then continue to press to make changes. 3 gears: low light-medium light-strong light turn off the sequence cycle, any gear double-click the switch to turn on the extremely strong light, and then continue to press to change (extreme lighting> flash> SOS> return to normal gear cycle), press and hold the switch for 1 second It can be turned off.
F15-T is a cutting-edge zoom flashlight with super bright output of 2000 lumen in such a compact size.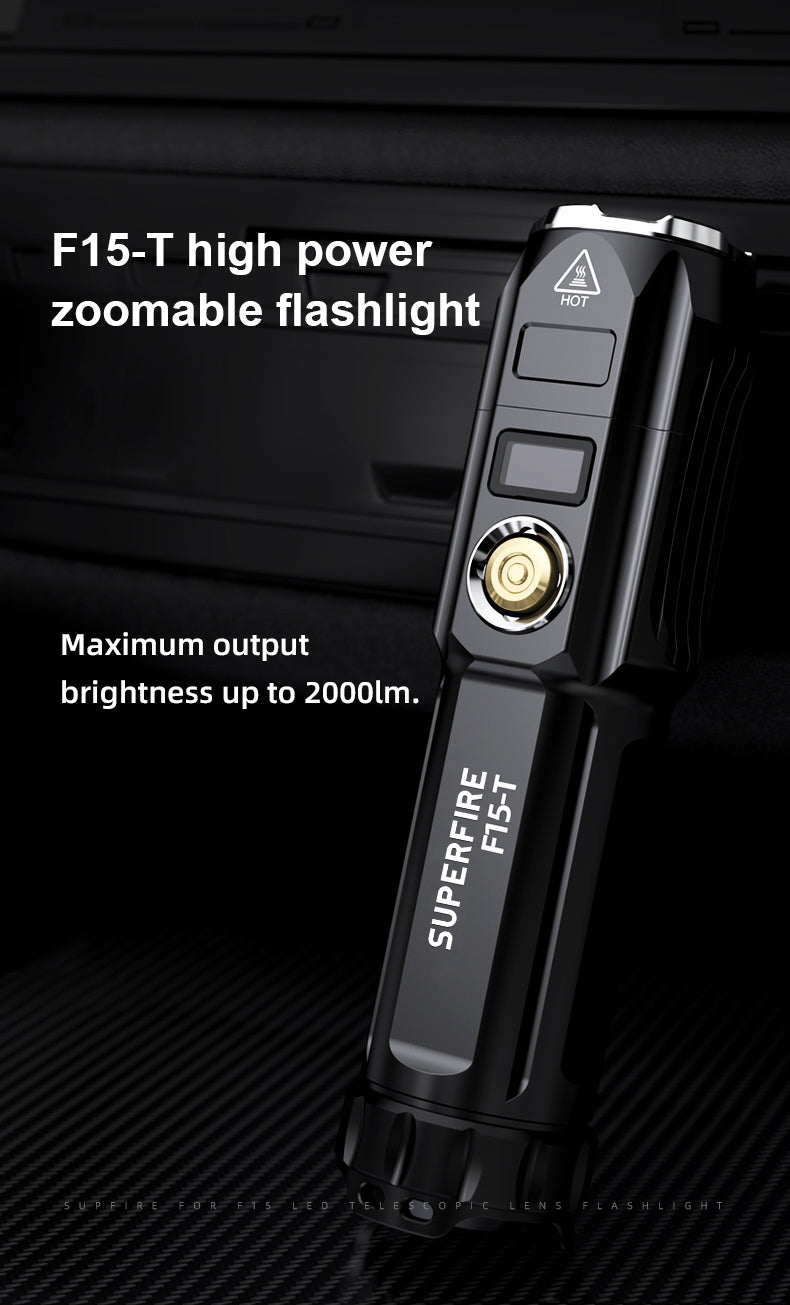 The F15-T delivers a remarkable output of 2000 lumens from P90 throttle chips with an upgraded lens that produces a perfectly balanced beam with a distance up to 200 meters.
Higher output, longer distance
Impressive output, with far-reaching beam, powerful multi-use flashlight.
New upgrade p90 wick-high power flashlight that provides a maximum brightness of 2000lm and a maximum lighting distance of 200m, which can easily illuminate at night, making it safer to travel at night.
Lens telescopic focusing design, achieve innovative combination of spotlight and floodlight to meet your lighting needs in hiking, camping, searching and photographing.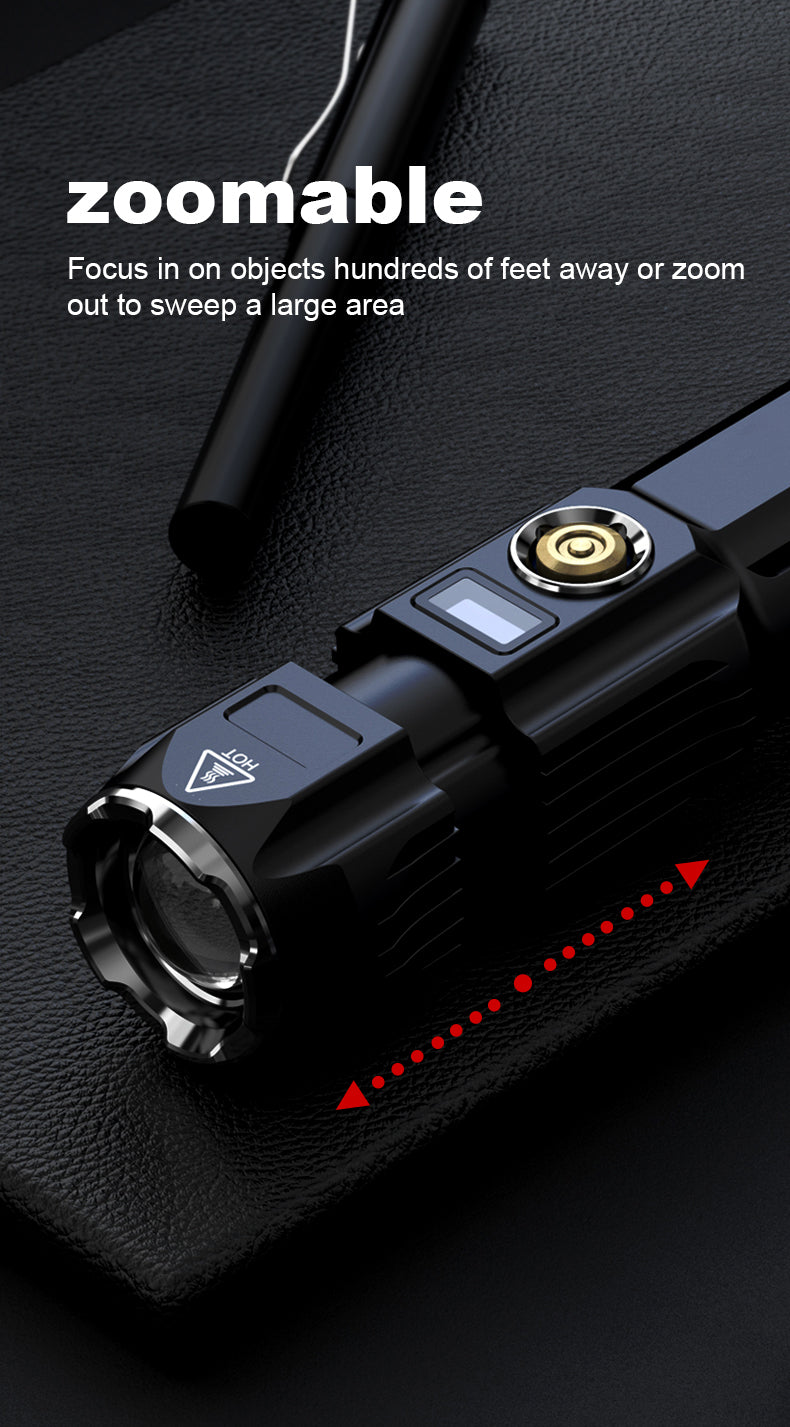 Ultra smooth true vision flood beam for wide range flood illumination with uniform and soft light.
The beam spot is more focused than a general flashlight, a tight spotlight is ensured even froma few hundred meters away.

Operating this powerful LED rechargeable flashlight is simplewith the ability to cycle through six lighting modes using one independent switche.Press twice quickly to get super high light keep pressing 1s to power off.

Screen digitally displays current output level that provides exact remaining battery life, which allows the users to be prepared for their preparative plans.

Everywhere you can find your power source like the car, power bank, bedside outlet, or computer.

Built-in 5200mAh rechargeable battery . Up to 5.5-hour runtime in brightest mode, always staying ready for your next adventure.
The F15-T can be used as a power bank for external digital devices, providing one more secure choice while outdoors.
Can be used in complicated weather environments such as rainy days.

Hard anodizing on robust aluminum body enhance resistance to corrosion, abrasion, and shock.

F15-T and F15 product comparison:

Fully Upgraded Compact High Power Flashlight An Ultra Tool In Your Hand.
Tiny yet mighty with max 2000 lumens. Good visibility for kinds of jobs.