Product description
Product reviews
Specs:
FREE SHIPPING WORLDWIDE TIME LIMITED
Power:5W+2W
Size:172*27*27mm   
Weight:245g
Brightness:side:800lm/front:300lm
Lamp beads: LED+COB
Battery:14500
Battery Capacity:800mAh
Charging Port: USB interface
Charging voltage: 5V/1A 
Run Time:3h
Charging Time:2.5 hours
Material:Aluminum Alloy
Colour:Black
Anti-fall Height:1m
Lighting Distance:100-200m
Waterproof:IP42
Modes:5 modes (strong light-weak light-white COB light-red COB light-red COB light strobe)
Packing: Flashlight (with build in battery)+head band+ box
Features:
1.Multifunctional 90° Adjustable L-shaped Work Light :The G19 can double as either a compact L-shaped work light or an angled work light, which gives all the versatility you need to handle any lighting task.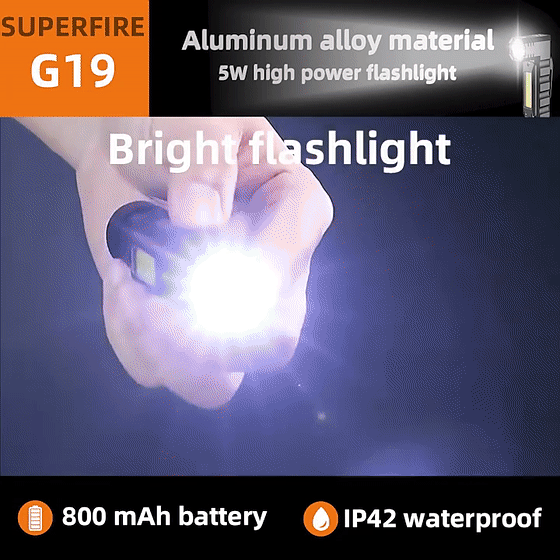 2.Product advantages:Which includes a magnetic base and the fuselage clip —a great all-purpose tool for work or leisure activities.
3.Clip It Anywhere for Hands-free Applications:With a built-in body clip, the G19 can be attached to pockets, backpacks or somewhere else for hands-free use.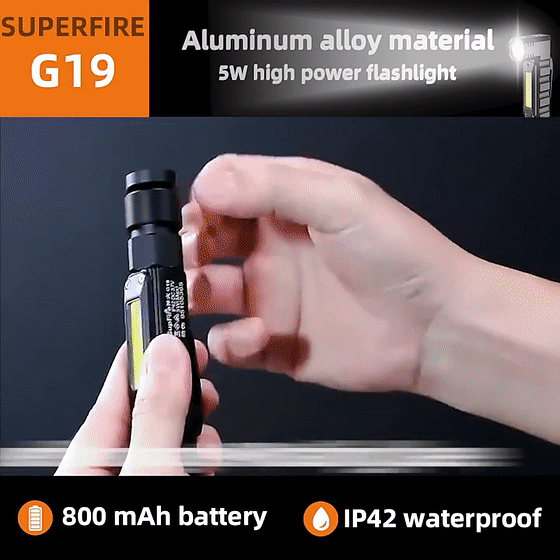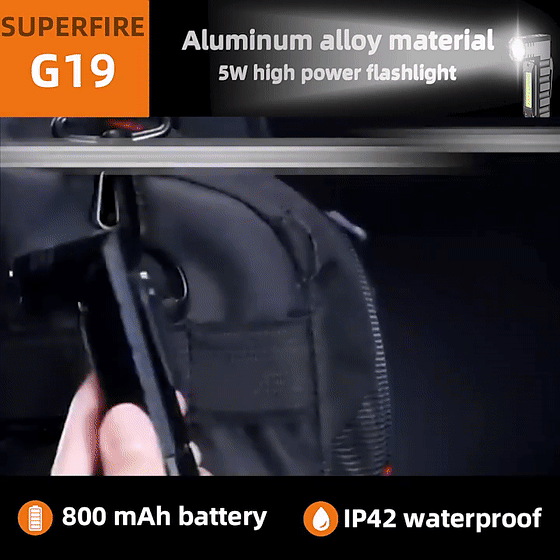 4.Headlamp and Flashlight All-in-one:The G19 rechargeable headlamp is a great multi-functional light that is not only a great right-angle detachable flashlight, but also a high-performance headlamp.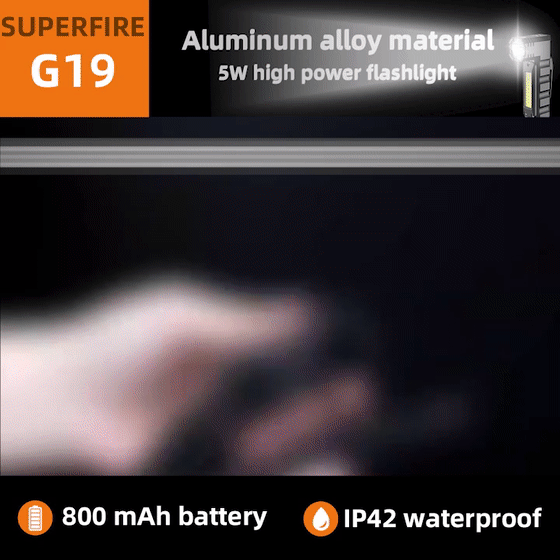 5.LED+ COB  Lights :The light features LED and COB patterns which both can reach 200 lumens - support for close-in and long-distance illumination.
6.Bottom hidden rotatable stand:A rotatable bracket eliminates illumination dead-zones and makes G19 a perfect companion for your routine work and emergencies.
7.Hands-free Use with Magnetic Base:Superfire G19 working lamp includes a built-in magnetic base, which allows you to firmly affix the light to most metal surfaces, leaving hands free for the task at hand.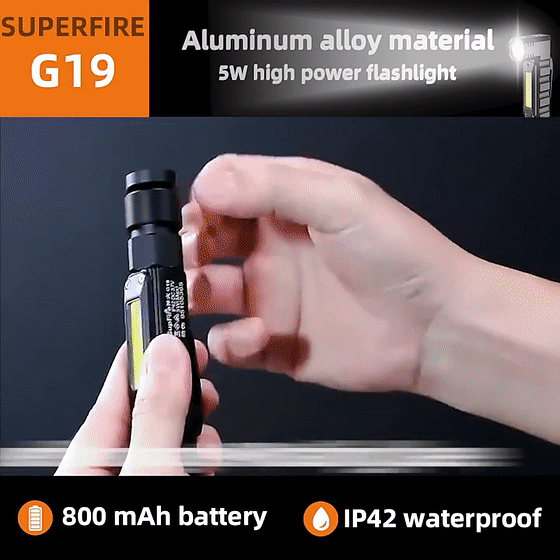 8.Ample Near-Field Floodlight:The floodlight of the G19 offers an unprecedented illumination experience. It greatly eases the visual fatigue and is perfect for night trekking, industrial maintenance, circuit checking, and more.
9.Five Lighting Modes:Strong light-weak light-white COB light-red COB light-red COB light strobe.There are three lights of white light, all of which are useful in for a variety of tasks-from up-close illumination to long-distance searching and inspection.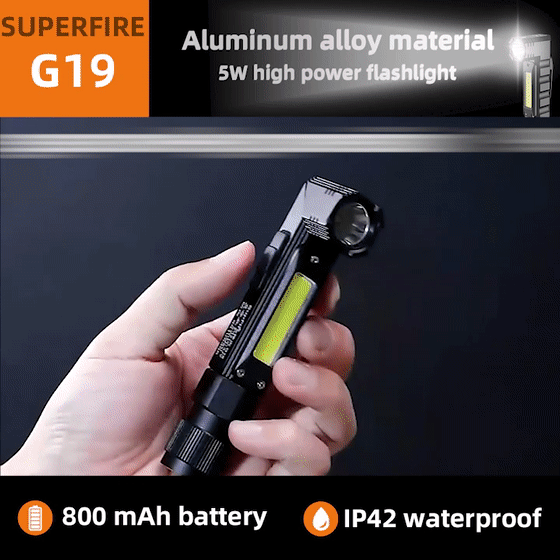 10.USB charging:Integrated USB charging port, get rid of the shackles of charging cables.
11.Cycle charging, high efficiency and energy saving:Utilizing a single built-in rechargeable Li-ion battery to minimize carbon footprint.
A single disposable battery will cause a square meter of land to lose its utility value.
12.Waterproof design:Don't worry about being unavailable on rainy days, easily cope with complicated weather conditions.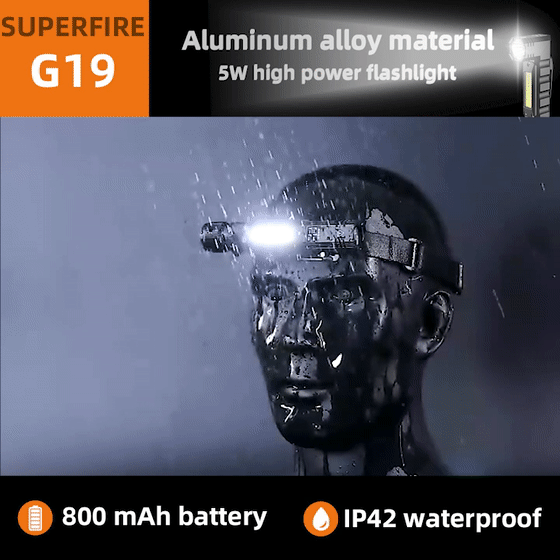 13.Outdoor Companion: Hiking, jogging, hands-free work, or sending a distress signal in an emergency. It covers most use scenarios.
14.Compact and Portable:Standard 14 cm body allows for extreme portability.