Product description
Product reviews
Product Information
* Lamp beads: XPG
* Power: 5W
* Lumen: 500 (Real test data)
* Lighting Mode: 3 Modes
* Red light needs to double-click the switch to
turn on
* Motion Sensor: Yes
* Max Lighting distance: about 100 M
* Charging interface type: Micro USB
* Runtime: about 5-6 H
* Attery capacity: 1800 mAh
* Material: ABS
* Weight: about 73g
* Product Size: 62*45*41mm
* Charging voltage: 5V/1A (Note: fast charging chargers are not supported)
-----------
Tips For Using
Press the left button to turn on the strong light, long press the button to perform stepless dimming (from bright to dark or from dark to bright), continue to press the switch (white light>yellow light>off), double-click the left button to enter the flashing red light . In the white light/yellow light position, press and hold the right switch button for 1.5 seconds. When the blue indicator light is on, it will enter the induction mode. Continue to press the button to turn off the sensing mode.
----------------------
Buyers Show
Real feedback from customers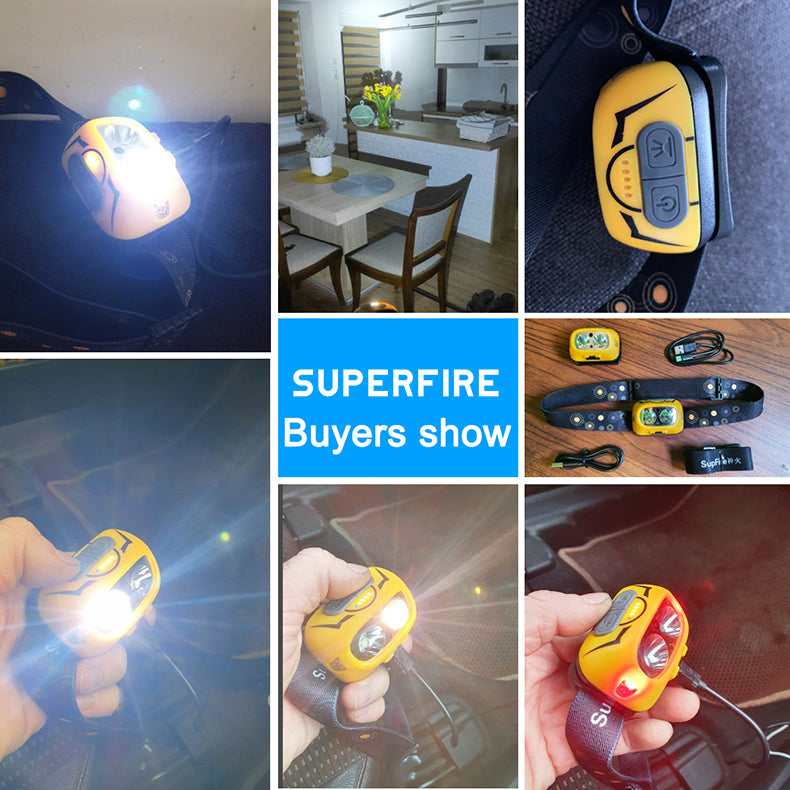 ✔FLOODLIGHT ILLUMINATION TO EACH INCH OF YOUR EYESIGHT
LIGHTWEIGHT STRUCTUREWON'T WEIGHT DOWNYOUR HEAD
The HL05 only weighs 73 g including battery. you will hardly notice the weight when trail running.
✔Three lights in one:
Built in White light/Yellow light/Red light, Meet your needs in various scenarios.
✔Silicone switch:
User Friendly Dual Button Interface
The operation switchs made of silicon which has better anti-wear properties and is more comfortable to the touch. Two switch control allows for simple and accurate operation-even with gloves while working.
✔DOUBLE BUTTONS FOR EASY OPERATION:
Independent control system with double buttons, free switching between the three modes,easy and convenient operation.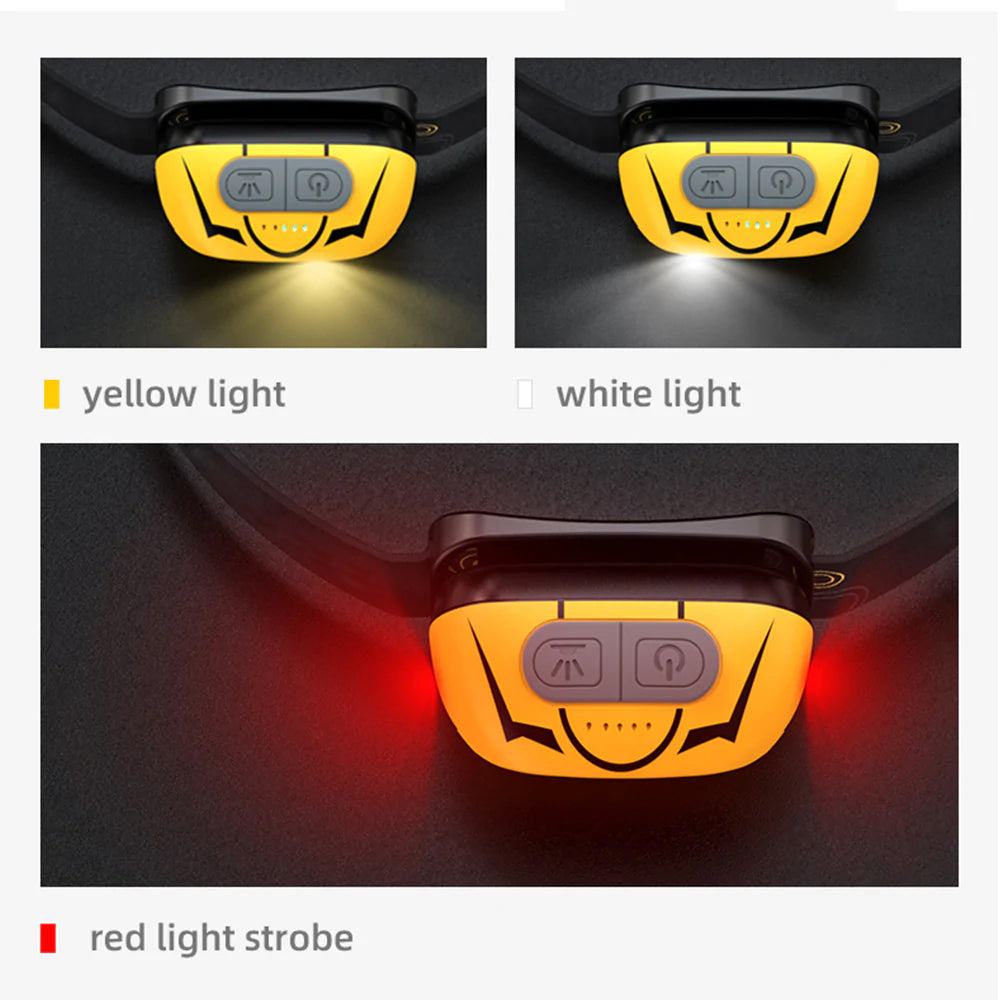 ✔Tailor-Made for Trail Runners:
Mini and compact, easy to use and convenient to carry.Adjustable head straps,ergonomic design.
✔Born To Run And Featherweight Weight:
This flashlight is the perfect all-purpose lighting tool for those needing maximum brightness and long runtimes.
✔HIGH POWER BLASTS FROM THIS SMALL HEADLAMP STYLE SEARCHLIGHT :
The HL05-S bursts a high output of 500 lumens. When confronting complex and changeable outdoor environment, wear this lamp on your head, it will surely act as a small searchlight to easily illuminate the road ahead.
✔IP44 Waterproof:
No need to worry about the drizzle days.
✔USB Rechargeable:
Recharge capability designed for sustainability.
✔Super-bright for trailrunners
A goodrunning headlamp is designed to fit comfortably on your head while providing you bright light, and our headlamps were designed to do just that.
Product parameter