Product description
Product reviews
Product Information
* Lamp beads: XPG
* Power: 5W
* Lumen: 500 (Real test data)
* Lighting Mode: 3 Modes
* Red light needs to double-click the switch to
turn on
* Motion Sensor: Yes
* Max Lighting distance: about 100 M
* Charging interface type: Micro USB
* Runtime: about 5-6 H
* Attery capacity: 1800 mAh
* Material: ABS
* Weight: about 73g
* Product Size: 62*45*41mm
* Charging voltage: 5V/1A (Note: fast charging chargers are not supported)
-----------
Tips For Using

Left button: Tap for strong light, long press for stepless dimming, double-tap for flashing red light. In white/yellow light mode, long-press right button for 1.5 seconds to enter induction mode (blue light on). Press again to disable sensing mode.
----------------------
Buyers Show
Real feedback from customers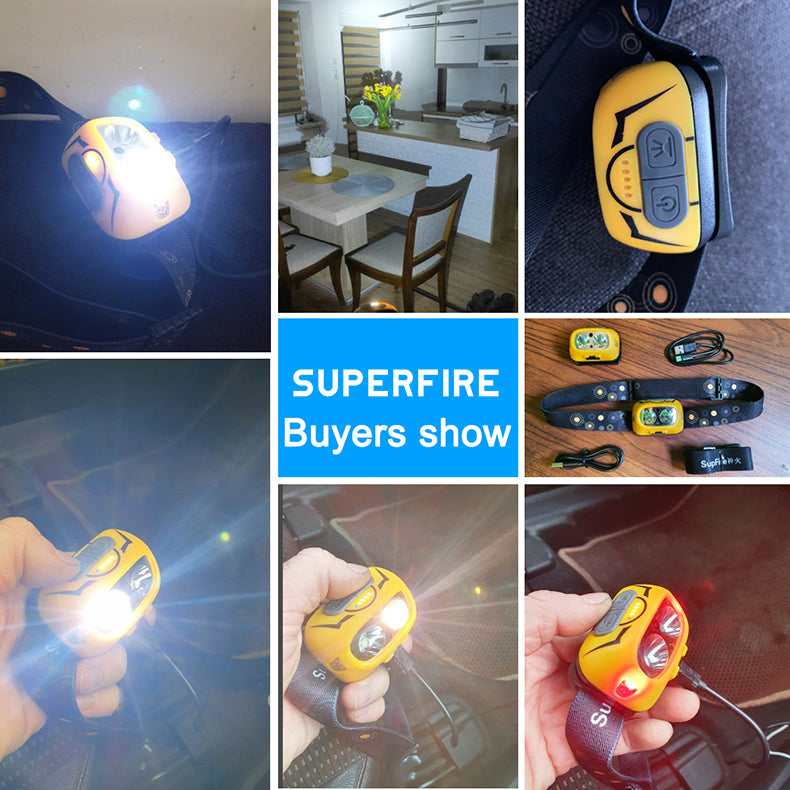 FLOODLIGHT ILLUMINATION TO EACH INCH OF YOUR EYESIGHT
LIGHTWEIGHT STRUCTUREWON'T WEIGHT DOWNYOUR HEAD
The HL05 only weighs 73 g including battery. you will hardly notice the weight when trail running.

✔Three lights in one:
Built in White light/Yellow light/Red light, Meet your needs in various scenarios.

✔Silicone switch:
User Friendly Dual Button Interface
The operation switchs made of silicon which has better anti-wear properties and is more comfortable to the touch. Two switch control allows for simple and accurate operation-even with gloves while working.

✔DOUBLE BUTTONS FOR EASY OPERATION:
Independent control system with double buttons, free switching between the three modes,easy and convenient operation.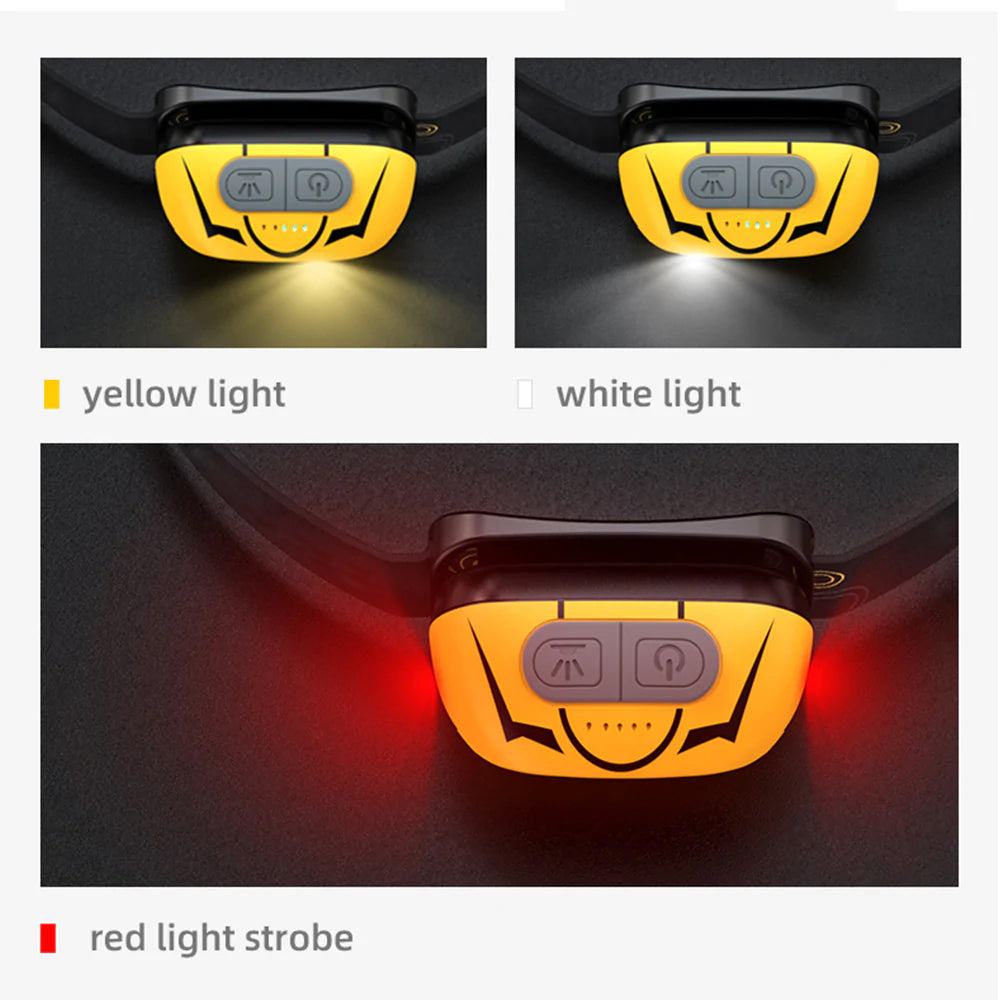 ✔Tailor-Made for Trail Runners:
Mini and compact, easy to use and convenient to carry.Adjustable head straps,ergonomic design.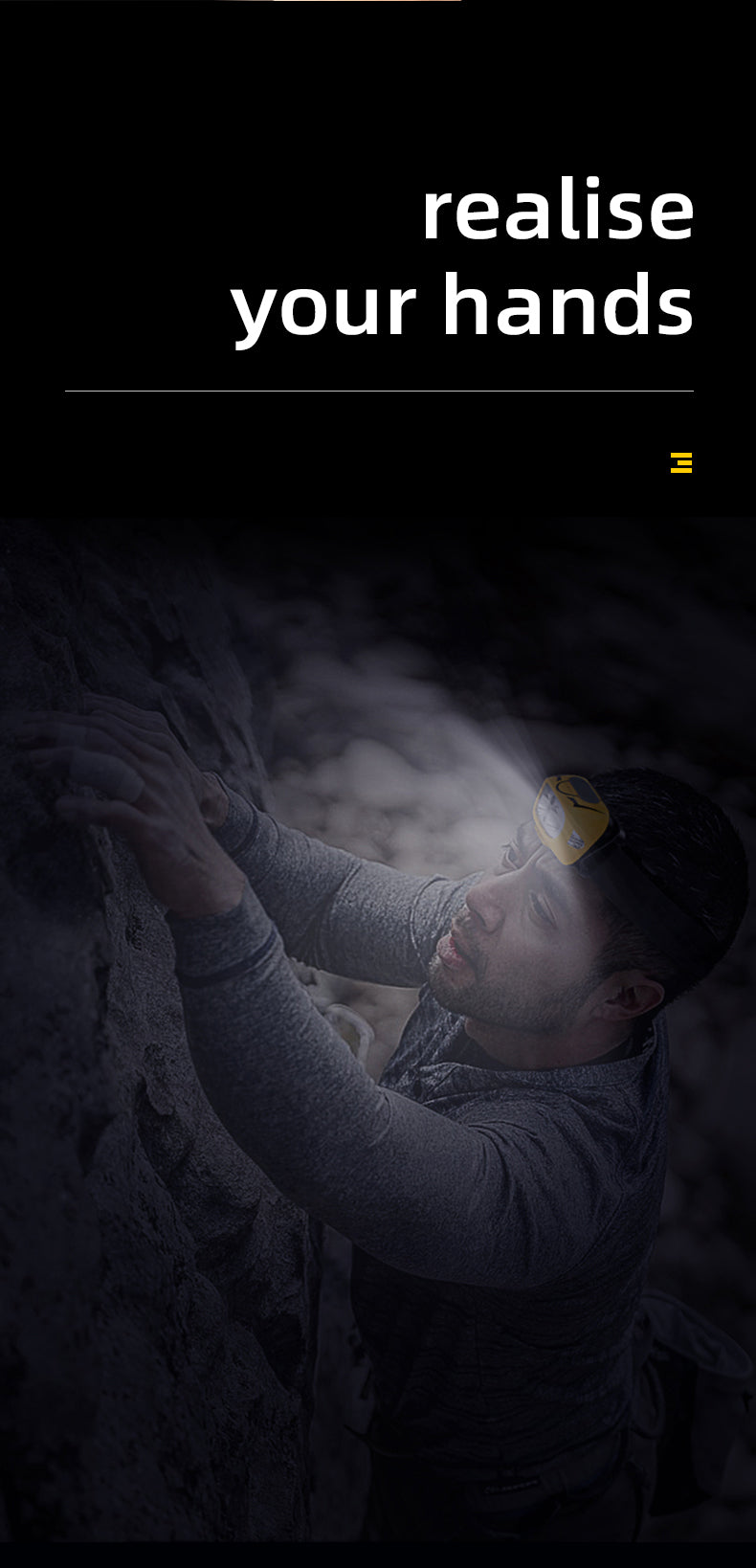 ✔Born To Run And Featherweight Weight:
This flashlight is the perfect all-purpose lighting tool for those needing maximum brightness and long runtimes.

✔HIGH POWER BLASTS FROM THIS SMALL HEADLAMP STYLE SEARCHLIGHT :
The HL05-S bursts a high output of 500 lumens. When confronting complex and changeable outdoor environment, wear this lamp on your head, it will surely act as a small searchlight to easily illuminate the road ahead.

✔IP44 Waterproof:
No need to worry about the drizzle days.

✔USB Rechargeable:
Recharge capability designed for sustainability.

✔Super-bright for trailrunners
A goodrunning headlamp is designed to fit comfortably on your head while providing you bright light, and our headlamps were designed to do just that.