News
Pretty Camping Lights List of 2022 You Need
by storesuperfire on Dec 02, 2022
The uses for lights in outdoors are endless, whether traveling to the backcountry or lighting up the night while car camping. Camp lights are the perfect tool for creating a camping atmosphere. Camping without lighting is not so complete. We've found the best camping lights for every purpose and budget.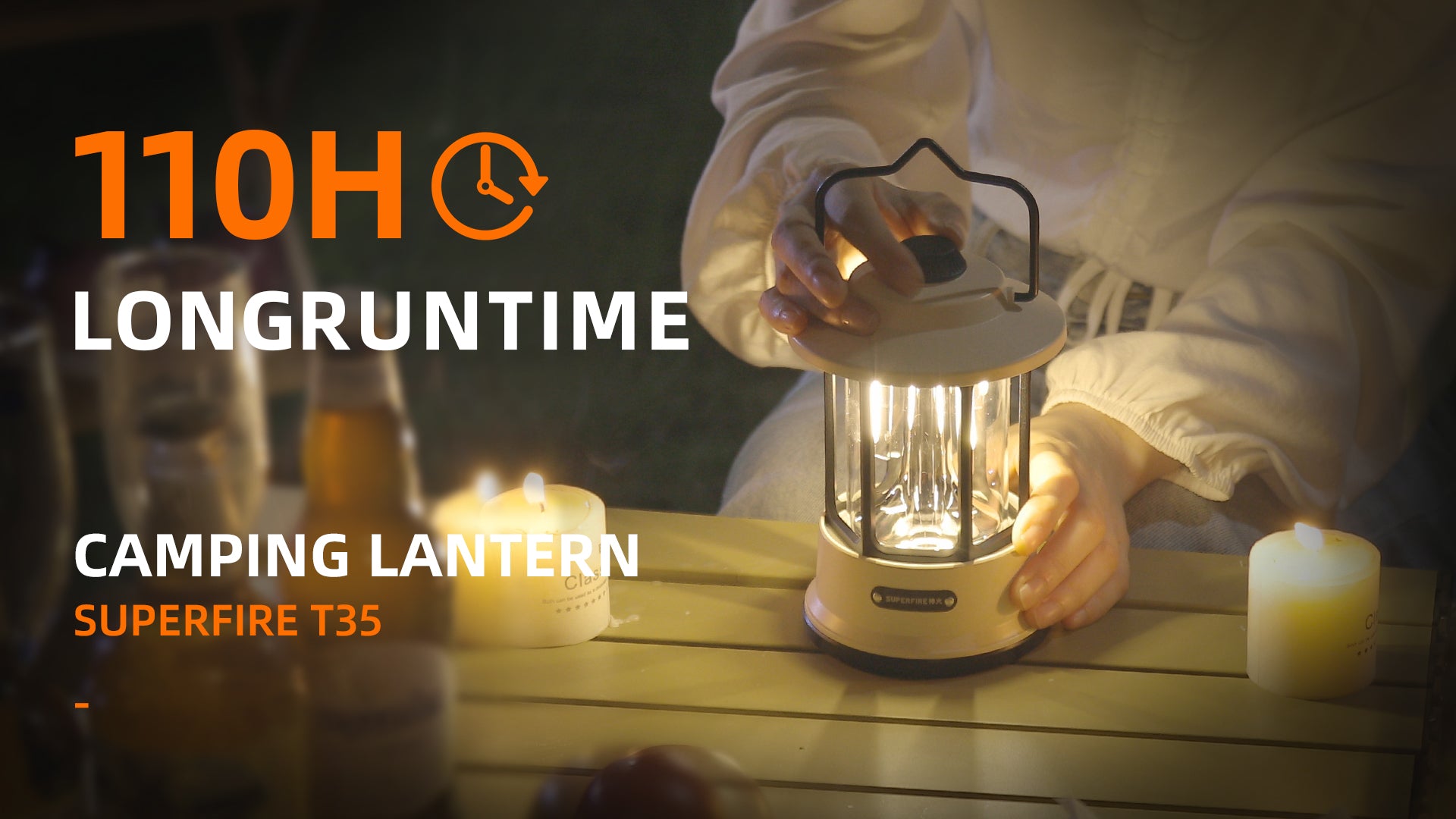 There's the list category to help you decide which one is best for you using, even though no best lantern for every camper. If you have absolutely no idea what to look for in a lantern, check out our buyer's guide and FAQ sections to make a better decision.
Scroll down to see all our top picks, or jump to the category you're looking for:
Best solar camping light T26-S
Do you need a white/yellow/warm lantern with infinitely dimmable camping lantern? SUPERFIRE T30 is just what you need. We have tested this multi-light camping light several times and it has always been a bestseller.
Its size is 87*87*195mm, thus it can be carried easily in a suitcase or backpack. It puts out a powerful 600 lumens. Warm Light: 600LM, White Light: 530LM, Yellow Light: 220LM. Three light levels are perfect for precise tasks, which means your batteries will last longer.
T30 supports diversified fast charging. It takes about 7 hours to charge, and we were able to get through a full camping weekend on a single charge.
 Easy to use: It can be used as a charger and an emergency power supply. We also really like the variety of options for hanging this lantern. You can choose the metal hook on the bottom, or use the top handle.
Finally, the T30 gets top marks for durability. By dropping tested multiple times, it still shines and functions flawlessly. 
At $70.46, it's not the cheapest option. But if you're looking for a lantern that's bright, portable, and durable, then this is a winner.
This exquisite palace retro lamp T57 constantly surprises and impresses us. It has worked reliably every night for several months and puts out a comfortably bright 320 lumens.
 The bungee cord allows for easy hanging in any position. The compact size means you can quickly grab it and use it as a flashlight when you need it. Press the button to change different light sources (warm light/white light/mixed light/red light), long press stepless dimming.
You can also set Red Steady-Red STROBE-Red SOS in the red range. It takes a few tries at first to get the dimming and other settings done, but it's easy once you get the hang of it.
Equipped with a small TYPE-C input interface, easy to charge. When charging, you can use the lighting function while charging.
You don't have to worry about rain or dust as it's IPX4 waterproof and tested to be extremely durable. We dropped it multiple times without seeing any damage or loss of performance.
All in all, this is a feature-packed little lantern that's perfect for car camping, van home, or backyard hanging.
This compact lantern is powerful and weighs only 213g.
Its maximum brightness is 195 lumens. Turning the button to turn on the light steplessly,and adjust the brightness from low to high. Turn it counterclockwise to turn off the light sourc. Not the brightest light on the list, but the T51 Lantern ($35.43) does the job.
It adopts more visually acceptable warm yellow light source 3296K, with a vertical irradiation area of 14m² at 2 meters.Type-c charging support, red light on when charging, green light on when fully charged.
This little lantern is our go-to for hanging in tents. Whether backpacking, car camping, or looking for an ultra-portable emergency light, the T51 is a durable and useful bargain.
Looking for the longest lasting camping light? Then it's time to meet SUPERFIRE T35. The 220lumen maximum output isn't terribly bright, but it provides a pleasant, useful glow around your campsite.
White light: 5800K Yellow light: 2700K. Turn the top switch clockwise to turn on the light source, and select the light color and brightness in the order of yellow light (low to high) - white light (low to high) - yellow + white light.
It weighs 295g, light and easy to carry. Charging via Type-C, 1 blue indicator light flashes when charging and 4 blue indicator lights on when fully charged.
Its maximum running time (lowest setting) is 110 hours, white light+yellow light is about 3h;White light is about 3.5h-7h, yellow light is about 7h-110h. Camping has never been a problem though, as we head out every day to wind up recharging. T35 is a high-value camping light, which is an excellent choice for backpacking.
This little lantern is a must-have for your emergency kit, safety kit, or camping bag. Long press stepless dimming, click to switch light source: tungsten warm light-SMD warm light-SMD white light-mixed light. Double-click to switch the red light: red light on - red light flashing - red light SOS.
The three light sources on at the same time can last 3.5 hours. Its size is ⌀ 117*H157mm and the weight is only 192g.
Equipped with a small TYPE-C input interface, easy to charge. When charging, you can use the lighting function while charging. Battery indicator light: green light 15%-100%, red light 5%-15%, red light flashing less than 5%.
It's also a top choice for emergency preparedness. Whether you live in a hurricane zone or regularly power shortage due to snowstorms, it's a good idea to have a backup light on hand. The T58 is an affordable, easy-to-use, and reliable option for camping and emergencies.
Best solar camping light T26-S
Looking for solar light? Then it's time to meet the T26-S. At only $34, it's a great value. The large output of 500 lumens is so bright that it can illuminate the entire campsite.
It weighs 265g and takes up very little space in your backpack. You can charge it via USB, or leave it outside and let the sunlight work its magic.
Its claimed maximum runtime (on the lowest setting) is 6.5 hours, but the maximum we got was 7 hours. Camping has never been a problem. With the addition of sunlight, the T26-S is a solid solar light that's a great option for backpacking.
A good camping light is outdoor essential. It's a great addition to cooking in traveling, perfect for nighttime camping games, and creates just the right atmosphere. Of course, you can also use a flashlight to illuminate, but a single lantern can light up the entire camp and make the job easier with your hands. Learn more about your camping lights: https://superfirestore.com/collections/camp-lights