Product description
Product reviews
Lamp beads: P90
Power: 36W
Lumen: 2100
Lighting Mode: 5 Modes
Max Lighting distance: about 350 M
Charging interface type: Micro USB
Runtime: about 3-4 H
Use battery model: 26650 lithium
Battery capacity: 5200 mAh
Material: Aluminum alloy
Weight: about 320G
Product Size: 179*61*36mm
Charging voltage: 5V/1A (Note: fast charging chargers are not supported)
Package include:1*Flashlight 1*5200mAh Battery 1*USB Cable 1*Lanyard
36W high power output allows that will light way up the trail no subject to the conditions.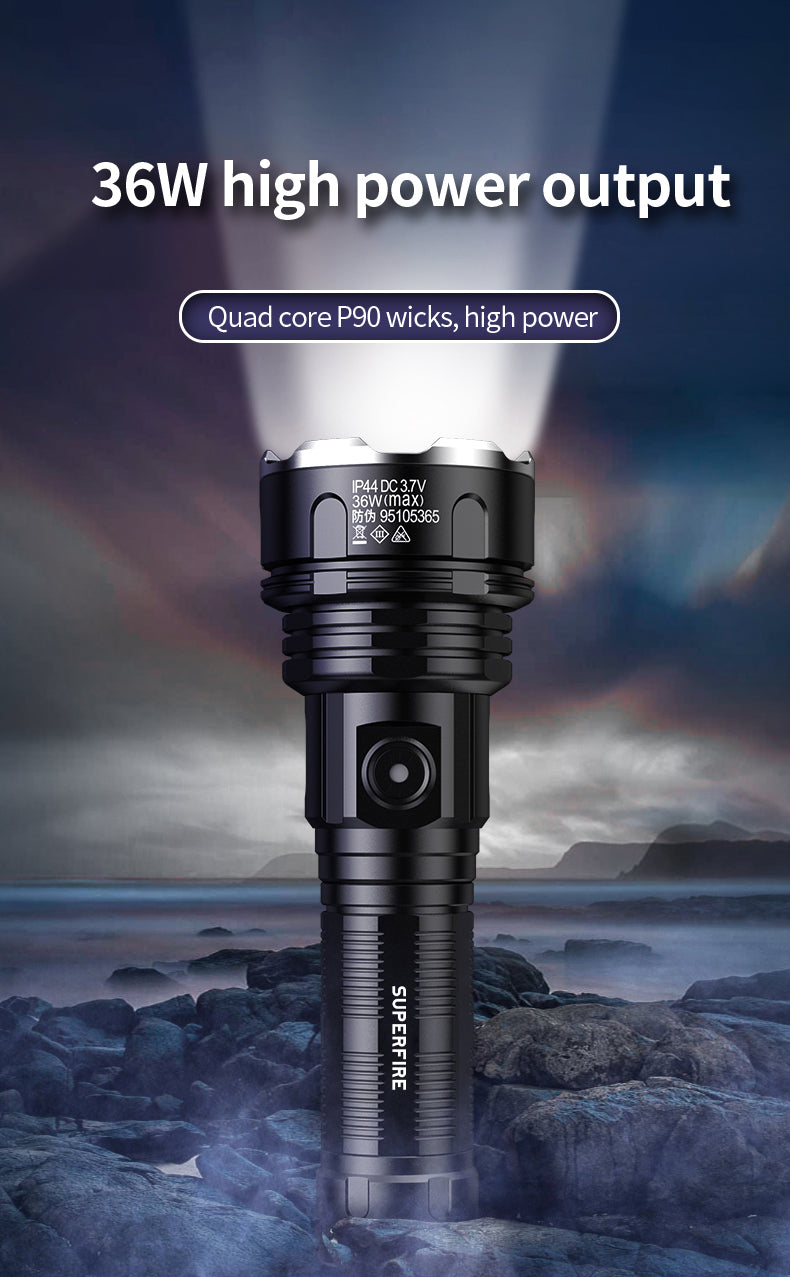 The R3 is a Quad-core P90 ultra high wick that perfectly balanced beam with a distance up to 350 meters.
Performing large-scale searching, patrolling and other tasks require support from a long-distant lighting tool. The R3 arms you with 350 meters ultra-long reaching distance to perfectly meet the needs of a wide variety of tasks and easily illuminate every inch of the dark.
Using Aluminum Alloy Plus Light Cup with an anti-reflective coating, provides a soft and balanced beam pattern for a more clear view.
Are you and your family or friends going on a trip or camping? Please remember to bring this flashlight, it will be a good helper!
Choose a large capacity 26650 mAh lithium battery rechargeable Li-on battery, for longer runtime.
Secure light source for outdoor exploration. Impressive output, with far-reaching beam, powerful multi-use flashlight.
You will be able to see everything around you.
Monitors internal temperature and adjusts output for maximum brightness, protecting the LEDs and internal components to ensure safety, stability and optimum performance.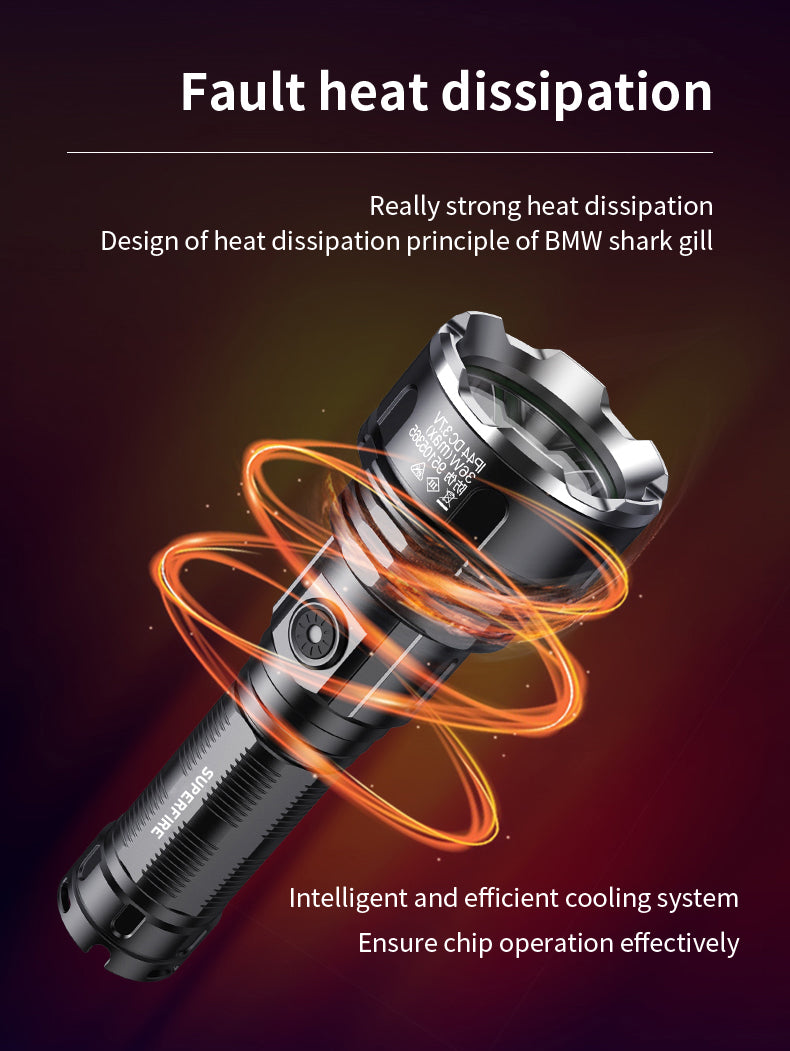 Quickly choose between five brightness levels, including a maximum 2100 lumens mode for high-intensity outdoor activities, and lower outputs for up-close needs; with the large, easy-to-use mode switch.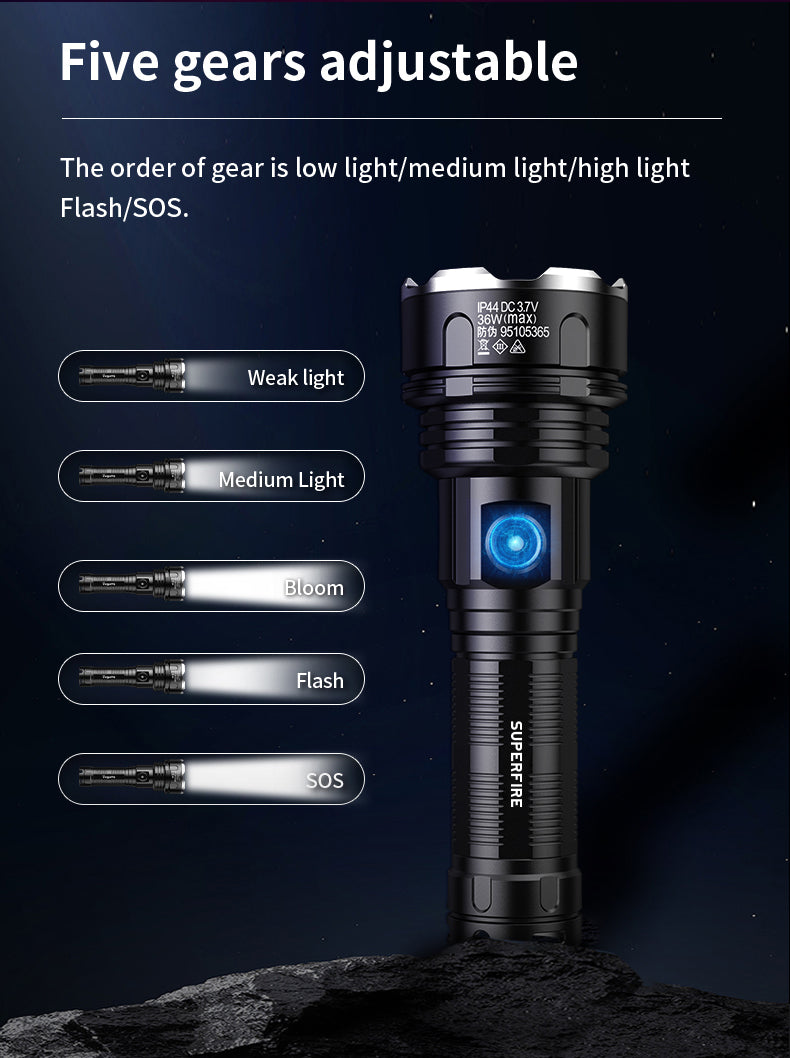 The light can be used as a power bank for extemal digital devices, providing one more secure choice while outdoors.